Flags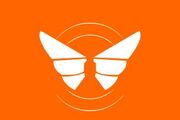 The National flag of the Kingdom of Gilboa is orange, and bears the Butterfly crest of the Benjamin Royal Family in white. The Butterfly design is inspired by the swarm of butterflies that descended, in the form of a crown, onto General Silas Benjamin's head after the battle for Prosperity, as a sign that God had anointed him King.
Gilboan Territorial Flags
Edit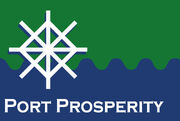 Port Prosperity
Edit
The Territorial flag of Port Prosperity features a nautical theme, harkening back to the time when it was a fishing village. The flag is green, with blue symbolizing water, and a stylized ships helm.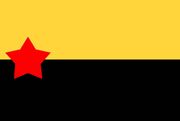 The National Flag of the Kingdom of Gath is Black and Gold, with a red Star to the left center. Two versions of the flag exist, one with gold on top, and black on bottom, which is used when the flag is displayed or flown; and a version with black, on top and yellow on bottom, that is used on military vehicles and uniforms.